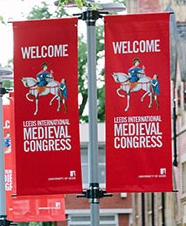 If you're going to be at the Leeds International Medieval Congress this year, please join us Tuesday evening (2 July) at 7 PM in the Ruper Beckett Theatre for the Medieval Academy of America Annual Lecture:
Aden Kumler (University of Chicago), "'The Gift of Screws': Material Un-Making in the Middle Ages"
Afterwards, join Prof. Kumler and MAA staff members for the Medieval Academy's open-bar wine reception.
The Medieval Academy's Graduate Student Committee roundtable, "How to Sell Your Post-Graduate Degree in Medieval Studies Outside the Tenure-Track Job Market," will take place on Monday at 7 PM. The GSC reception will take place on Tuesday from 8-10 pm at the Old Bar.
We hope to see you there!