Dear Members of the Medieval Academy,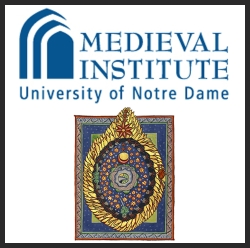 The 90th annual meeting of the Medieval Academy of America takes place this year on March 12-14, 2015, at the University of Notre Dame in South Bend, Indiana. We at the Medieval Institute will be serving as your host, and now welcome you to join us. Registration for the conference is now available, or as they say, gone "live."
Please go to:
https://notredame-web.ungerboeck.com/coe/coe_p1_all.aspx?oc=10&cc=ALLREG
There you will see a calendar of events for Notre Dame's conference center. Go to March 2015, then select the link for the 'Medieval Academy of America'. Here you will also find direct links to conference hotels offering discounted rates and a general overview of conference activities. The discounted rates for attendees remain in effect only through February 11, 2015, and so I urge you to register soon.
Full details concerning the program as well as transportation and related matters may also be found on the Medieval Institute's web site at: www.medieval.nd.edu/maa15.
This year's conference features some fifty sessions covering a wide range of disciplines, with plenary addresses by Elizabeth Eva Leach of the University of Oxford, William Chester Jordan of Princeton University, and Lawrence Nees of the University of Delaware. Also scheduled are concerts, movies, exhibitions, interactive installations, tours, and a digital model of Hildegard of Bingen's Cosmic Egg. To stay abreast of all conference matters, visit our Facebook page (www.facebook.com/maaNotreDame2015) or subscribe to our Twitter feed (@medievalND).
If you have concerns about travel or any other logistical matters in relation to the conference, please email us (maa15@nd.edu), or call 574-631-8304 for further assistance. We want to make your visit go smoothly and can help you troubleshoot specific problems. Whether you are visiting Notre Dame for the first time or returning to a familiar place, be assured of a warm welcome.
I look forward to seeing you in March.
John Van Engen
Robert M. Conway Director of the Medieval Institute University of Notre Dame