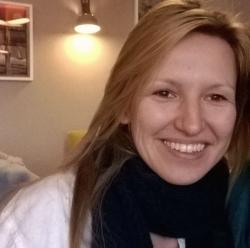 We are thrilled to announce that Dr. Agnieszka Rec has been appointed as the first two-year postdoctoral editorial fellow at Speculum, chosen from a pool of nearly 80 impressive applicants. Dr. Rec, a historian of the later Middle Ages with a research focus in the history of alchemy and the history of the book in Central and Eastern Europe, received her PhD from Yale University in 2016 and is currently the 2016-2017 Herdegen Fellow at the Chemical Heritage Foundation in Philadelphia, PA.
Agnieszka brings to Speculum broad interests in medieval studies. She has taught classes on the early and High Middle Ages, as well as the history of magic across the continent. As a curatorial assistant at the Beinecke Rare Book and Manuscript Library, she worked to raise awareness of the Eastern European materials, including the library's Armenian manuscripts. As a research assistant at Yale she was involved in editing many publications, including articles and books.
Her work relies on manuscripts held in archives across Europe and the US, including most recently, the Biblioteka Ksiąząt Czartoryskich in Cracow, Poland and the Estense Library in Modena, Italy. She has received funding from FLAS, the Society for the History of Alchemy and Chemistry, the Leiden University Library, and the Fulbright Commission, among others.
Dr. Rec holds a BS in Mathematics and Humanities (with distinction) from Yale, and studied for a post-bac year at the Center for Women in Math at Smith College before pursuing a doctoral degree in History.
Agnieszka will join the Speculum team in July, overlapping with the current one-year postdoc, Sara Torres, for about a month. We look forward to welcoming her to Dunster St.