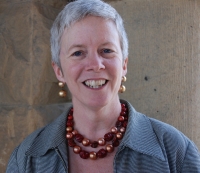 Dear Academy Members,
I've had a glimpse of the future, and despite all the disheartening conditions and prospects in academic life, it is intellectually BRIGHT! Graduate student participation in this year's Annual Meeting is very impressive.
Over forty percent (42.2%) of the conference sessions feature the work of graduate students. Doctoral candidates from public universities competed especially well in the Program Committee's blind-review process. They will travel to Washington DC from the far west (California, New Mexico, and the state of Washington), from the mid-west (Illinois, Iowa, Michigan, and Wisconsin), and from both the north and south (Pennsylvania, Delaware, North Carolina, Tennessee, and Texas).
Perhaps unsurprisingly, graduate students are taking the Middle Ages global: all four presenters in a special session co-organized with the Smithsonian's National Museum of Asian Art are doctoral candidates. Zumrad Ilyasova (University of Basel) is contributing a paper on the multiple meanings of silk on the Silk Road. Kris Kryscynski (University of Washington) will use a screen from the Freer collection to elucidate the religious teaching of Japanese Buddhist nuns, while Yingxue Wang (Harvard University) will share her research on ephemeral colors in East Asian shrines and their entanglement with social, cultural, and ecological environments. Sylvia Wu (University of Chicago) will conclude the session with a paper on the constructed identities of "Shiraz" in the medieval Indian Ocean.
Graduate student presenters are also doing innovative new work in richly-tilled European fields. We will learn about "The Beauty of the Field: Imagination and Landscape" from Alice Carolyn Wolff (Cornell University) and ecclesiastical jurisdiction in pastoral visitation records with Frances Eshleman (Fordham University). Martina Franzini (Johns Hopkins University) will present on love across confessional boundaries in Boccaccio's Decameron, Isabel Howard (UNC Chapel Hill) on queer authorship in Chrétien de Troyes' Arthurian Romances, and Audrey Saxton (Penn State) on Custance in Chaucer's "Man of Law's Tale." Jana Valesca Meyer (University of New Mexico) will explore the lives and livelihoods of a Merovingian agricultural community through bioarcheological analysis of skeletal remains from Thuringia, and Jason Stubblefield (University of Tennessee, Knoxville) will show us how William of Malmsbury used allegorical exegesis of the Book of Lamentations to critique twelfth-century ecclesiastical abuses.
Graduate students attending the Annual Meeting will have the opportunity to meet one another and get acquainted on the conference's first evening, Thursday February 23rd, at a "social hour" in the Hyatt's Cure Bar hosted by the MAA's Graduate Student Committee (GSC). The GSC is also sponsoring, in collaboration with the Academy's Inclusivity and Diversity Committee (IDC), a Group Mentoring Lunch on Saturday February 25th. Organized by GSC chair Reed O'Mara (Case Western Reserve) and IDC chair Joseph Salvatore Ackley (Wesleyan University) with IDC member Nahir Otaño-Gracia (University of New Mexico), the complimentary lunch (funded by the Academy!) offers graduate students and early career scholars informal networking opportunities with senior colleagues. Up to 50 guests will be accommodated, so sign up when registration opens to reserve your place at the table!
Finally, in keeping with the meeting's theme of "internationalisms," GSC chair O'Mara and GSC member Will Beattie (Notre Dame) have organized a roundtable on "International Research in Libraries, Archives, and Museums" to help student researchers access collections, prepare for trips abroad, and handle unexpected challenges. The session focuses particularly on changes over the last fifteen years and features specialists with experience in non-European collections: Carlos Diego Arenas Pacheco (Notre Dame; central and Latin America, Asia), and Stephennie Mulder (University of Texas, Austin; Middle East, Africa). Other panelists with expertise in European repositories include Adam S. Cohen (University of Toronto) and alt-ac medievalists David T. Gura (curator), Julia H. Harris (independent scholar) and Kersti Francis (UCLA, GSC Member). Brief presentations from this diverse group of scholars will be followed by ample time for questions and discussion.
I find the energy and brilliance of our medievalist graduate students immensely cheering. I thank all graduate students for contributing their insights and ideas to the many disciplines dedicated to scholarship on the Middle Ages. You are our inspiration and hope for the future! I'm also grateful to their mentors, who continue to pass on their knowledge and encourage young scholars within university environments less and less supportive of research in the humanistic disciplines. Your efforts are bearing fruit.
Wishing all of you peaceful and joyous holidays,
Maureen C. Miller, President of the Medieval Academy of America