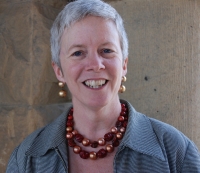 Happy New Year, dear Academy Members,
It's already time to make your plans for this year's Annual Meeting, which not only takes place in our nation's capital, Washington DC, but also offers members special access to some of the city's greatest collections and institutions. Conference co-chairs Laura K. Morreale and Jennifer R. Davis, in collaboration with the members of the Annual Meeting Program and Local Arrangements Committees, have organized SEVEN special events. Space is limited, so read on to learn about these exciting opportunities so that you can register early!
MAA members are cordially invited to the world premiere of playwright Allyson Currin's Rejoicing in Broken Pieces at the Callan Theater of The Catholic University of America the evening of Thursday 23 February. Specially commissioned by CUA in honor of the Academy's Annual Meeting, this dramatic presentation explores female medieval monastic culture through the lives and words of St. Brigid of Kildare, Hrotsvitha of Gandersheim, St. Hildegard of Bingen, Marie de France, Christina of Markyate, St. Brigid of Sweden, St. Catherine of Siena, Margery Kempe, and the anonymous Woman with Lapis Lazuli Teeth. The award-winning playwright, Allyson Currin, with over a dozen productions to her credit, is also an accomplished performer and teacher in the Washington arts scene. The day after the premier, she and director Eleanor Holdridge will also participate in a conference roundtable —along with CUA professors Lilla Kopár, Jennifer Paxton, and Michael Witczak—on "Staging and Teaching Medieval Women." All the participants contributed to a fall undergraduate seminar at CUA that engaged 12 students in learning about dramaturgy, research, and the Middle Ages. Click here to purchase tickets for Thursday's performance.
It is also still possible to secure a spot to participate in the day-long pre-conference Digital Medieval Studies Institute (DMSI) on Wednesday February 22. This jointly-sponsored in-person series of workshops in digital scholarly methods for medieval studies will take place on the NYU DC campus (1307 L St NW). Space is still available in two: "Comics and Medieval Manuscripts: The Alchemy of Word and Image" and "Using IIIF Images and Tools."
Thursday morning, before the conference officially opens at 1:30 pm, members can choose any of three guided excursions to Washington DC collections. One is to the Dumbarton Oaks Museum with its renowned holdings in Byzantine and Pre-Columbian art. Curators will not only guide participants through the galleries, but also facilitate artifact handling in the Byzantine coins and seals room as well as the museum storage facility. Another excursion is to the National Gallery of Art to view and discuss medieval manuscript leaves from the Lessing J. Rosenwald Collection. This extraordinary collection is particularly strong in late medieval woodcut prints, devotional incunabula, and manuscript illuminations. Still another opportunity is a curator-guided visit to the Textile Museum at George Washington University. With particular strength in rugs and textiles from the Islamic world, Asia, and Africa, the museum also holds one of the world's most significant textile study collections of nearly 4,000 fragments from Europe, the Middle East, Asia, and Africa dating from antiquity to the present.
During the annual meeting there are also two special sessions at Washington collections. Friday morning from 8:30-10:00 am, the Library of Congress will host a session on Fragmentology (chaired by our own Lisa Fagin Davis and organized by the LC's Rare Book Librarian Marianna Stell and the Center for the Advance Study in the Visual Arts Research Associate Matthew J. Westerby). On Friday afternoon from 14:15-16:00, the National Gallery of Art will host a session on Curating Global Medieval Art: Questioning Paradigms and Perspectives. Panelists include curators from the Dumbarton Oaks Byzantine Collection, the Smithsonian's National Museum of Asian Art, the Walters Gallery collections in ancient art of the Americas, and the Baltimore Museum of Art's African and Oceanic Art collections. Click here to register for this limited-attendance session.
And don't miss the Annual Meeting's closing reception at the Smithsonian's National Museum of Asian Art. Its director, the eminent scholar of Islamic history and culture Chase F. Robinson, is generously hosting the closing reception in its extraordinary galleries. I, and the Annual Meeting's co-chairs, are deeply grateful to him for welcoming Academy members to this treasure trove of Asian art.
Finally, it is worth noting that admission to over a dozen Smithsonian Museums is FREE. Timed Entry Passes are required only for the African American History and Culture Museum, the Air and Space Museum, and the National Zoo. If you can come a day early or stay Sunday, you can take advantage of the Grand Hyatt conference rate and enjoy your tax dollars at work!
Wishing all of you an auspicious start to 2023,
Maureen C. Miller, President of the Medieval Academy of America