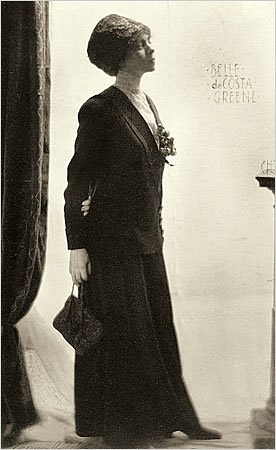 We are very pleased to announce that the inaugural Belle da Costa Greene Award has been presented to Tarren Andrews (University of Colorado, Boulder).
In 2018, the Medieval Academy of America established the Belle da Costa Greene Award to support the work of a medievalist of color. Da Costa Greene (1883-1950) was a prominent American art historian and the first librarian of the Pierpont Morgan Library in New York. She was also the second woman, and first person of color, to be elected a Fellow of the Medieval Academy. Throughout her career, she passed as a white woman. This award explicitly acknowledges that the Medieval Academy of America has been, and remains, enmeshed in a world where racial ideologies have material effects that are often deleterious-for individuals and for scholarship alike.
Tarren Andrews's project, "Indigeneity Outside Indigenous Studies: Encounters with Indigenous Futures and Medieval Pasts," responds to the challenges of practicing an intellectually rigorous and responsible medieval studies in a racialized world by offering a truly global approach to medieval studies. The Inclusivity and Diversity Prize Committee is impressed by the project's deeply historical approach to the concepts of time that arise at the intersections of medieval and indigenous pre- and postcolonial studies.
Andrews will use the award to travel to an indigenous studies conference in New Zealand, with the objective of interrogating the methodologies and the ethical positions of Indigenous and Eurocentric studies. Andrews's project promises to enlarge our definitions of the "medieval," and thereby to expand our understanding of our past, present, and future worlds. This is a project we are honored to support.
Click here to support the Belle da Costa Greene Fund in support of medievalists of color.