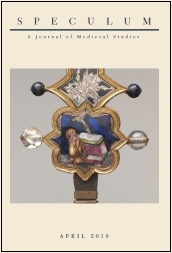 The latest issue of Speculum is now available on the University of Chicago Press Journals website.
To access your members-only journal subscription, log in to the MAA website using your username and password associated with your membership (contact us at info@themedievalacademy.org  if you have forgotten either), and choose "Speculum Online" from the "Speculum" menu.  Please refer to this video tutorial if you are having difficulty. As a reminder, your MAA membership provides exclusive online access to the full run of Speculum in full text, PDF, and e-Book editions – at no additional charge.
Speculum, Volume 93, Issue 2 (April 2018)
Articles
Raymond Peraudi in Zerbst: Corpus Christi Theater, Material Devotion, and the Indulgence Microeconomy on the Eve of the Reformation
Glenn Ehrstine
The Women and the Inquisitor: Peacemaking in Bologna, 1299
Melissa Vise
The Giant of Bremen: Roland and the "Colossus Imagination"
Assaf Pinkus
Edward I, Exodus, and England on the Hereford World Map
Debra Higgs Strickland
Book Reviews
This issue of Speculum features 81 book reviews, including:
Megan Cavell, Weaving Words and Binding Bodies: The Poetics of Human Experience in Old English Literature (2016)
Reviewed by Emily Thornbury
Andrew Hicks, Composing the World: Harmony in the Medieval Platonic Cosmos (2017)
Reviewed by Elizabeth Eva Leach
Tyler Lange, Excommunication for Debt in Late Medieval France: The Business of Salvation (2016)
Reviewed by Felicity Hill
Elizabeth Lapina, Warfare and the Miraculous in the Chronicles of the First Crusade (2015)
Reviewed by Cecilia Gaposchkin
Hela Ouardi, Les derniers jours de Muhammad (2016)
Reviewed by John Tolan
Dan Lord Smail, Legal Plunder: Households and Debt Collection in Late Medieval Europe (2016)
Reviewed by Guy Geltner
MAA members also receive a 30% discount on all books and e-Books published by the University of Chicago Press, and a 20% discount on individual  Chicago Manual of Style Online subscriptions. To access your discount code, log in to your MAA account, and click here.  Please include this code while checking out from the University of Chicago Press website.
Sincerely,
The Medieval Academy of America