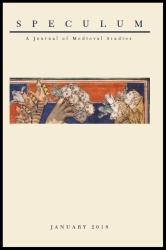 The latest issue of Speculum is now available on the University of Chicago Press Journals website.
To access your members-only journal subscription, log in to the MAA website using your username and password associated with your membership (contact us at info@themedievalacademy.org  if you have forgotten either), and choose "Speculum Online" from the "Speculum" menu.  Please refer to this video tutorial if you are having difficulty. As a reminder, your MAA membership provides exclusive online access to the full run of Speculum in full text, PDF, and e-Book editions – at no additional charge.
Speculum, Volume 93, Issue 1 (January 2018)
Articles
"Ala grant temps de douleur languissant": Grief and Mourning in Girart d'Amiens' Istoire le roy Charlemaine
Daisy Delogu
"Partout la figure du lion": Thomas of Marle and the Enduring Legacy of the Coucy Donjon Tympanum
Richard A. Leson
On Lying
Introduction
Dallas G. Denery II
"Consider the Future as Present": The Paranoid World of Kekaumenos
Jake Ransohoff
"Your Words Are the Truth": Rabbi Qalonymous and Archbishop Ruthard of Mainz
Susan L. Einbinder
Serpents and Lies
Nancy Mandeville Caciola
Lies, Puns, Tallies: Marital and Material Deceit in Langland and Chaucer
Jamie Taylor
The Medieval Liar
Gyula Klima
Articles
Glossing Vergil and Pagan Learning in the Carolingian Age
Sinéad O'Sullivan
Book Reviews
This issue of Speculum features more than 70 book reviews, including:
Lindy Grant, Blanche of Castile, Queen of France
Reviewed by William Chester Jordan
Catherine Hanley, Louis: The French Prince Who Invaded England
Reviewed by Hagar Barak
David Wallace, ed., Europe: A Literary History, 1348-1418
Reviewed by Marisa Galvez and Niklaus Largier
Warren T. Woodfin, The Embodied Icon: Liturgical Vestments and Sacramental Power in Byzantium
Reviewed by Maureen C. Miller
Piotr Górecki, The Text and the World: The Henryków Book, Its Authors, and Their Region, 1160-1310
Reviewed by Wojtek Jezierski
Anna Baldwin, An Introduction to Medieval English Literature 1300-1485; Michael Calabrese, An Introduction to Piers Plowman
Reviewed by Ellen K. Rentz
MAA members also receive a 30% discount on all books and e-Books published by the University of Chicago Press, and a 20% discount on individual Chicago Manual of Style Online subscriptions. To access your discount code, log in to your MAA account, and click here. Please include this code while checking out from the University of Chicago Press website.