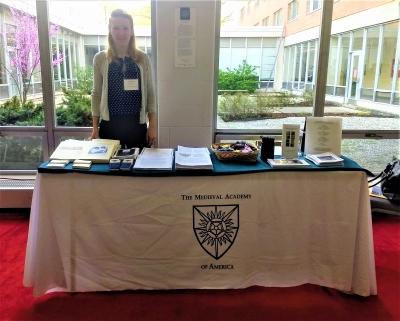 Like many of you, we've just returned from another splendid International Congress on Medieval Studies in Kalamazoo. Speculum Editor Sarah Spence, Associate Editor Agnieszka Rec,  Assistant Editor Laura Ingallinella, and Executive Director Lisa Fagin Davis all enjoyed chatting with current and potential members at our table in the exhibit hall. We are particularly pleased to welcome the new members who benefited from our annual "Fifty Free" program, in which we give away fifty one-year introductory MAA memberships at Kalamazoo.
The Friday morning plenary, sponsored by the Academy, was delivered to a large crowd by Sara Ritchey (Univ. of Tennessee-Knoxville), who spoke on "'Salvation is Medicine': The Medieval Production and Gendered Erasures of Therapeutic Knowledge." The lecture was introduced by Monica Green (Arizona State Univ.) and was live-Tweeted by Margie Housley (Univ. of Notre Dame) here: https://goo.gl/SbgnZ4. The two related sessions were also well-attended, expanding on themes introduced in Prof. Ritchey's lecture.
Three distinguished journal editors offered tips on publication to a room full of graduate students and advisors during a session organized and moderated by the MAA Graduate Student Committee: "Meet the Editors: Tips and Techniques on Article Submission for Graduate Students (A Roundtable)." Sarah Spence (Speculum), Michael Cornett (Journal of Medieval and Early Modern Studies), and Chris Africa (Medieval Feminist Forum) helped reframe the publication process as one of collaboration and conversation. They reminded the room that all journals have a niche, a mission, and a specific audience that graduate researchers should keep in mind when crafting manuscripts. The best way to learn about these aspects of the journal, of course, is to read recent issues! They also advised graduate students to know the current state of the field, to position their arguments within the discourse, and to have a candid conversation with their advisor about whether the piece is ready for submission. Lastly, they reaffirmed the basics: Be professional in all your communications and proofread! Thanks again to all the panelists and to those who attended for helping to facilitate conversation between graduate student writers and editors. (with thanks to GSC Chair Theodore Chelis (Pennsylvania State Univ.) for this summary)
The Committee on Centers and Regional Associations (CARA) sponsored two panels this year that fostered discussion about issues of concern in educating and training of both undergraduate and graduate students. The first panel, "The 21st-century Medievalist: Digital Methods, Career Diversity, and Beyond," featured four medievalists at various stages of their careers who spoke on the question of what it means to be, or to train our students to be, medievalists in our current environment. With the competing demands of learning new digital methods, training for a job market that reaches far beyond the academy, and worrying about widespread attacks on the humanities, it can sometimes feel like a difficult time to be or to train students to become scholars of the premodern world. On the other hand, new technologies are opening up new questions and approaches to sources, the focus on global history broadens our medieval horizons, and there is a growing openness about the various career paths medievalists can follow. The speakers on this panel addressed both the challenges and the opportunities facing our field, and in particular how both teaching and using digital methods are transforming the work we do as premodernists. The full room of audience members participated in an active and productive discussion. The second panel, entitled "Teaching a Diverse and Inclusive Middle Ages," featured three speakers who shared their experiences and tactics in trying to engage undergraduate students in a broader definition and understanding of the Middle Ages, beyond the image of a monolithically heterosexual, white, Christian, European society that remains prevalent among the general public and many students alike. The session was very well-attended and advanced an important conversation about how students can be taught about the diversity of the premodern world in a way that responds to student needs and interests. (with thanks to organizer Sarah Davis-Secord (Univ. of New Mexico) for this summary)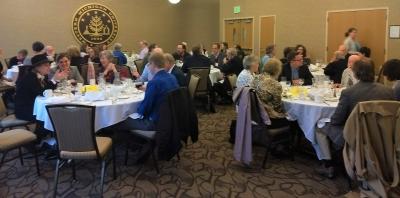 The annual CARA (Committee on Centers and Regional Associations) Luncheon enjoyed a record attendance of more than forty delegates who participated in discussions of practical topics such as budgeting, fundraising, libraries, public advocacy, and improving medieval studies in K-12 curricula. If you would like to participate in the networking and advisory opportunities afforded by CARA, please join us at the annual CARA Meeting (on the Sunday after the MAA Annual Meeting) and at the CARA luncheon at the ICMS in Kalamazoo.