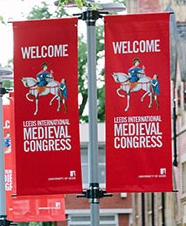 The 2015 Medieval Academy Annual Lecture at the Leeds International Medieval Congress was presented by Sara Lipton (SUNY Stony Brook), titled "The Vulgate of Experience – Preaching, Art, and the Material World." An abstract is online here.
The lecture was very well-attended and -received, and was followed by a crowded and lively Medieval Academy reception. If you missed it, we hope you will be able to join us next year. Our thanks to the Leeds Program Committee (chaired this year by Ian Wood) for inviting Prof. Lipton to address the Congress.
Our thanks as well to the Graduate Student Committee for organizing, and to Sanne Frequin (Univ. of Amsterdam) for graciously offering to moderate, the Leeds GSC panel "Being a Public Medievalist."
This is a topic that has been "trending" of late, with several bloggers and Tweeters taking up the question of how (and if) we, as medievalists, can (and should) represent ourselves and our field to the general public. The September issue of "Medieval Academy News" will include a detailed report on the GSC session and this important topic.