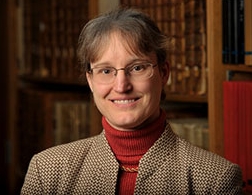 Thanks to an incredible outpouring of support from medievalists, colleagues and friends of Remie Constable, the fund established in her name has raised more than $48,000 in just four weeks. Donations continue to come in, and there is now no doubt that the Olivia Remie Constable Award will soon be fully and permanently endowed.
Remie was a consummate scholar who was aware that gaps in funding exist for emerging scholars. The Constable Award, which will be administered by the Medieval Academy, will be awarded annually to an emerging junior faculty member, adjunct or unaffiliated scholar (broadly understood: post-doctoral, pre-tenure) for research and travel. The award is meant to reflect the high standards of Remie's scholarship as well as her broader interdisciplinary interests in Medieval Studies (as exemplified by her teaching, her leadership, and her service to the discipline).
A special donation page for the Constable Fund has been set up on our website: http://www.medievalacademy.org/donations/fund.asp?id=10951.
We look forward to announcing the first recipient of the Olivia Remie Constable Award at the 2015 Annual Meeting of the Medieval Academy at the University of Notre Dame next March.