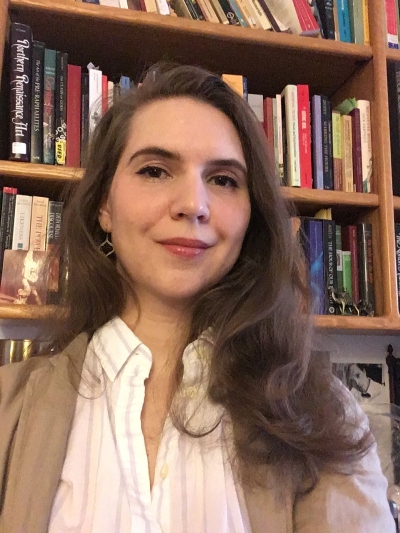 The Medieval Academy of America is very pleased to announce that the 2021-2022 Schallek Fellowship has been awarded to Alicia Cannizzo (Graduate Center, City University of New York) to support her thesis project, "Matter En Transir: The Transi Tomb and Theories of Matter in the Late Middle Ages." Her dissertation, which is being completed under the supervision of Dr. Cynthia Hahn, focuses on early transi tombs and brings together methods from both art history and the history of science. A summary of her topic follows:
Alicia Cannizzo's thesis investigates the earliest transi tombs from France to England and identifies the cultural contexts beyond the thoroughly explored memento mori tradition that gave rise to these odd and affecting tombs. She proposes that the concept of memento mori, which reached its full popularity after the earliest transi tombs were created, clouds the interpretation of these objects. Other concurrent concepts regarding the body and its behavior are explored, including theories of matter and medical practice. The behavior of matter in both living and dead bodies was a subject of intense discussion at the university level, exploring questions about how and why the body was reduced to basic components after death and the implications this process might have on an eventual resurrection. Using biographical information from the earliest tombs she explores links between the commemorated dead and the intellectual culture of the university in a study that hopes to broaden the understanding of the visual culture of death as a whole.
Cannizzo holds a Master's degree from the University of Wisconsin-Madison, where she studied death in the medieval period under Dr. Thomas E. A. Dale and the history of science under Dr. Micheal H. Shank.
The Schallek Fellowship provides a one-year grant of $30,000 to support Ph.D. dissertation research in any relevant discipline dealing with late-medieval Britain (ca. 1350-1500). The Fellowship is offered by the Medieval Academy in collaboration with the Richard III Society-American Branch and is supported by a generous gift to the Richard III Society from William B. and Maryloo Spooner.