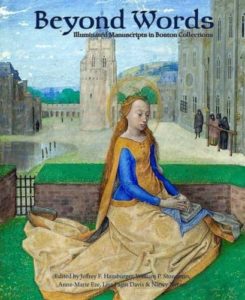 Beyond Words at Houghton Library
Extended Through December 14
Houghton Library is delighted to announce that due to popular demand its exhibition Beyond Words: Illuminated Manuscripts in Boston Collection will run for an extra three days. The library is beyond words with the success of its fall show which has received a record-breaking number of visitors from the Harvard community, Boston-area, rest of the United States and overseas.
Join Beyond Words curators William P. Stoneman and Anne-Marie Eze for tours of the exhibition in Houghton Library's Edison and Newman Room on Monday December 5, 5.30-6.30pm and Tuesday December 13, 12-1pm.
Houghton Library joined forces with Boston College's McMullen Museum and the Isabella Stewart Gardner Museum to stage Beyond Words, the largest ever exhibition of medieval and Renaissance manuscripts held in North America. Visit all three venues to see 260 highlights of the art of illumination dating from the ninth to seventeenth centuries drawn from Boston-area collections. For more information go to beyondwords2016.org