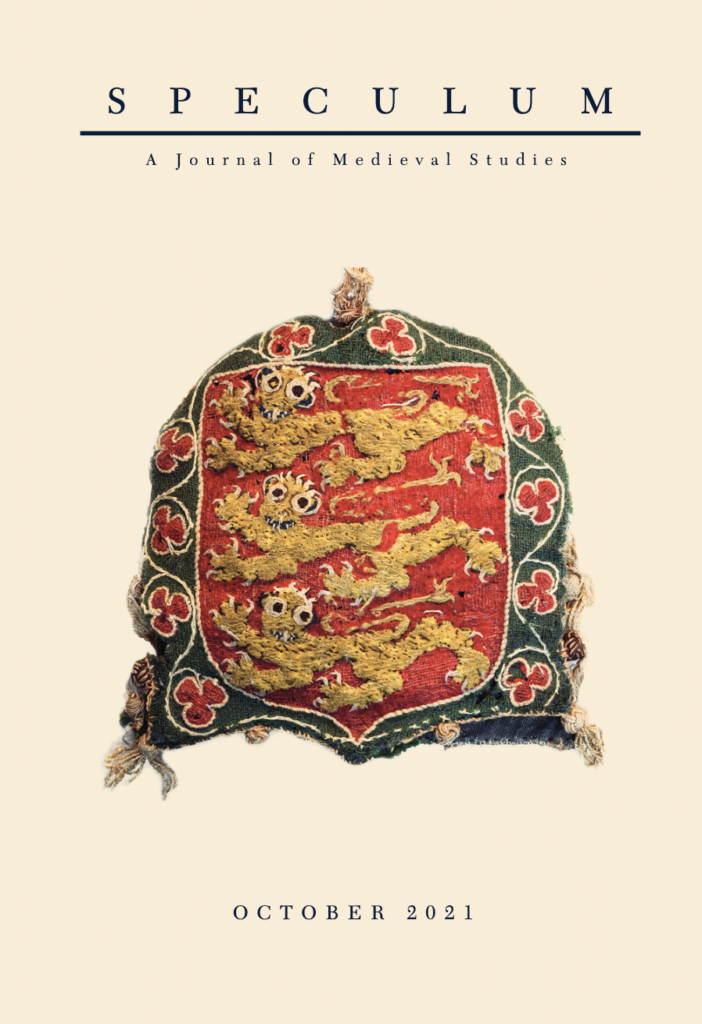 The latest issue of Speculum is now available on the University of Chicago Press Journals website.
To access your members-only journal subscription, use the username and password associated with your MAA membership to log in on the MAA website (contact us at info@themedievalacademy.org if you have forgotten your credentials). Then, choose "Speculum Online" from the "Speculum" menu. As a reminder, your MAA membership provides exclusive online access to all issues of Speculum in full text, PDF, and e-Book editions—at no additional charge.
Speculum 96, no. 4 (October 2021)
Articles

Cross-cultural Transfer of Medical Knowledge in the Medieval Mediterranean: The Introduction and Dissemination of Sugar-based Potions from the Islamic World to Byzantium
Petros Bouras-Vallianatos
Froibirg Gives a Gift: The Priest's Wife in Eleventh-Century Bavaria
Fiona J. Griffiths
Reassembling Textile Networks: Treasuries and Re-collecting Practices in Thirteenth-Century England
Amanda R. Luyster
A Rudder for The Ship of Fools?: Bosch's Franciscans as Jongleurs of God
Peter V. Loewen
Book ReviewsThis issue of Speculum features 70 book reviews, including:

Abū Maʿšar, The Great Introduction to Astrology, ed. and trans. Keiji Yamamoto and Charles Burnett, with an introduction to the Greek version by David Pingree
Reviewed by Robert Morrison
Joan M. Ferrante and Robert W. Hanning, The Romance of Thebes (Roman de Thèbes)
Reviewed by Raymond Cormier
Tracy Chapman Hamilton and Mariah Proctor-Tiffany, eds. Moving Women Moving Objects (400–1500), with a foreword by Joan A. Holladay
Reviewed by Michelle K. Oing
Catherine E. Karkov, Imagining Anglo-Saxon England: Utopia, Heterotopia, Dystopia
Reviewed by Lori Ann Garner
Erik Kwakkel, Books Before Print
Reviewed by M. Michèle Mulchahey
Michael Lapidge, ed. and trans., Bede's Latin Poetry
Reviewed by Calvin B. Kendall
Simon Thomas Parsons and Linda M. Paterson, eds., Literature of the Crusades; Linda Paterson, Singing the Crusades: French and Occitan Lyric Responses to the Crusading Movements, 1137–1336, in collaboration with Luca Barbieri, Ruth Harvey, and Anna Radaelli, and with an appendix by Marjolaine Raguin
Reviewed by Stefan Vander Elst
Ramzi Rouighi, Inventing the Berbers: History and Ideology in the Maghrib
Reviewed by Susan Gilson Miller
David A. Traill, ed. and trans., Carmina Burana
Reviewed by Thomas C. Moser Jr.
Cord J. Whitaker, Black Metaphors: How Modern Racism Emerged from Medieval Race-Thinking
Reviewed by Seeta Chaganti
MAA members also receive a 30% discount on all books and e-Books published by the University of Chicago Press, and a 20% discount on individual subscriptions to The Chicago Manual of Style Online. To access your discount code, log in to your MAA account and then visit the page that lists the code details. Please include this code while checking out from the University of Chicago Press website.
Sincerely,
The Medieval Academy of America