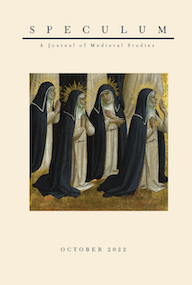 The latest issue of Speculum is now available on the University of Chicago Press Journals website.
To access your members-only journal subscription, log in to the MAA website using your username and password associated with your membership (contact us at info@themedievalacademy.org if you have forgotten either), and choose "Speculum Online" from the "Speculum" menu. As a reminder, your MAA membership provides exclusive online access to the full run of Speculum in full text, PDF, and e-Book editions – at no additional charge.
Speculum, Volume 97, Number 4 (October 2022)
Articles
Personification and Gender Fluidity in the Psychomachia and Its Early Reception
Katharine Breen
"It Will Help Him Wonderfully": Placebo and Meaning Responses in Early Medieval English Medicine
Rebecca Brackmann
Roman Women: Female Religious, the Papacy, and a Growing Dominican Order
Mary Harvey Doyno
Comparative Economy and Martial Corporatism: Toward an Understanding of Florentine City Leagues, 1332–92
William Caferro
Word as Bond in an Age of Division: John Eugenikos as Orator, Partisan, and Poet
Nathanael Aschenbrenner and Krystina Kubina
Book Reviews
This issue of Speculum features more than 75 book reviews, including:
Thomas N. Bisson, ed. and trans., The Chronography of Robert of Torigni. Vol. 1, The Chronicle, A.D. 1100–1186. Vol. 2, Related Historical Texts
Reviewed by Sean McGlynn
David Crook, Robin Hood: Legend and Reality
Reviewed by Peter Coss
Matthew Gabriele and David M. Perry, The Bright Ages: A New History of Medieval Europe
Reviewed by Esther Liberman Cuenca
Peter Haidu, The "Philomena" of Chrétien the Jew: The Semiotics of Evil, ed. Matilda Tomaryn Bruckner
Reviewed by Irit Ruth Kleiman
M. Lindsay Kaplan, Figuring Racism in Medieval Christianity
Reviewed by Magda Teter
Verena Krebs, Medieval Ethiopian Kingship, Craft, and Diplomacy with Latin Europe
Reviewed by Andrew Kurt
Liz Herbert McAvoy, The Enclosed Garden and the Medieval Religious Imaginary
Reviewed by Barbara Newman
Alessandro Palazzo and Anna Rodolfi, eds., Prophecy and Prophets in the Middle Ages
Reviewed by Brian FitzGerald
Andrew Rabin, Crime and Punishment in Anglo-Saxon England
Reviewed by Benjamin A. Saltzman
Achim Timmermann, Memory and Redemption: Public Monuments and the Making of Late Medieval Landscape
Reviewed by Jana Gajdošová
MAA members also receive a 30% discount on all books and e-Books published by the University of Chicago Press, and a 20% discount on individual subscriptions. To access your discount code, log in to your MAA account, and click here. Please include this code while checking out from the University of Chicago Press website.
Sincerely,
The Medieval Academy of America