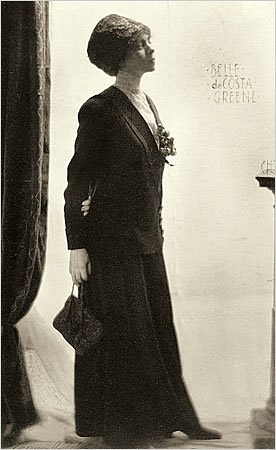 Applications are now being accepted for the inaugural Belle Da Costa Greene Award supporting research by medievalists of color.
The Belle Da Costa Greene Award of $2,000 will be granted annually to a medievalist of color for research and travel. The award may be used to visit archives, attend conferences, or to facilitate writing and research. The award will be granted on the basis of the quality of the proposed project, the applicant's budgetary needs (as expressed by a submitted budget and in the project narrative), and the estimation of the ways in which the award will facilitate the applicant's research and contribute to the field. Special consideration will be given to graduate students, emerging junior scholars, adjunct, and unaffiliated scholars.
Belle Da Costa Greene (1883-1950) was a prominent art historian and the first manuscript librarian of the Pierpont Morgan collection. She was also the first known person of color and second woman to be elected a Fellow of the Medieval Academy of America (1939). According to the Morgan Library & Museum website, "Greene was barely twenty when Morgan hired her, yet her intelligence, passion, and self-confidence eclipsed her relative inexperience, [and] she managed to help build one of America's greatest private libraries." She was, just as importantly, a black woman who passed as white in order to gain entrance and acceptance into the racially fraught professional landscape of early twentieth-century New York. Her legacy highlights the professional difficulties faced by medievalists of color, the personal sacrifices they make in order to belong to the field, and their extraordinary contributions to Medieval Studies.
Applications must be submitted by 15 February and will be adjudicated by the Academy's Inclusivity and Diversity Prize Committee. The application will consist of a biographical form, CV, a one-page proposal, and a simple budget. Letters of recommendation (no more than two) are optional. So as not to burden the applicant, it is perfectly appropriate to include material and letters prepared for other grant applications. Applicants must be members in good standing of the Medieval Academy as of 15 January of the year in which they apply. Click here to apply.
To make a donation in support of the Greene Award, please visit the MAA website.