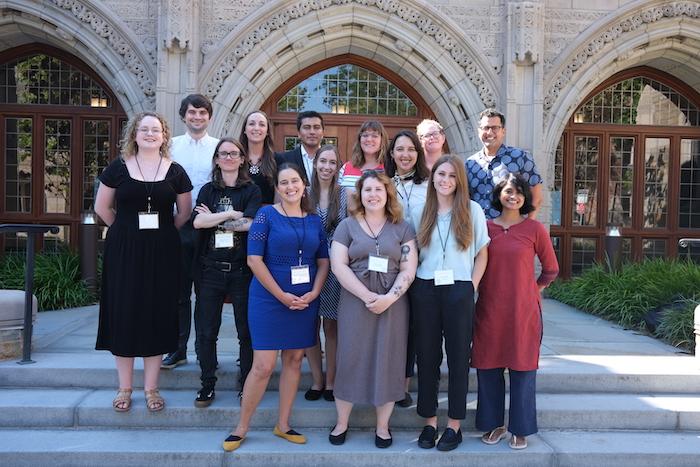 Back row, left to right: Dr. Daniel Davies, Ashley Barros, Adan Ramirez-Figueroa, Brianna Skye Oliver, Emma Maggie Solberg, Dr. Hussein Fancy
Middle row, left to right: Lauren Cole, Antony Henk, Kristen M. Raffa, Gabriella Chitwood
Front row, left to right: Dr. Nahir I. Otaño Gracia, Erin Kurian, Amy Juarez, Aparajita Das
Congratulations to the organizers of the Academy's inaugural Summer Research Program and to all its participants!
This initiative was the work of many minds, hearts, and hands. As a member of Council in 2020, Hussein Fancy (Yale University) first raised the idea of a summer research experience for student medievalists from diverse backgrounds after he participated in a highly successful diversity mentoring program at the University of Michigan.  Andrea Achi (Metropolitan Museum of Art), Nahir Otaño Gracia (University of New Mexico), and Jonathan Correa-Reyes (Pennsylvania State University) collaborated with Hussein and me to propose the establishment of an MAA Mentoring Programs Committee. Approved by Council in 2021 and formed the next year under leadership of chair Afrodesia McCannon (New York University), this dynamic new committee began work on several projects, the most ambitious being the Summer Research Program.
The program aims broadly to mentor for the future of medieval studies by fostering a diverse new generation of medievalists. This summer's pilot was devoted to early graduate students and designed to provide a springboard for the kind of sustained mentorship that would assist its participants not only in completing their doctoral work but also in using their expertise in medieval studies to pursue a wide array of careers. Out of a robust pool of applicants, the committee selected fifteen students from communities and backgrounds that have been traditionally underrepresented or marginalized within medieval studies. They came from all over North America —from Texas, Arkansas, and Oklahoma to Oregon, Iowa, Illinois, and North Carolina—as well as from Delhi, India and Tbilisi, Georgia. Their interests ranged across the many disciplines of medieval studies—English, Art History, Romance Languages, History of Science, Religious Studies, Philology, History—and beyond Europe to Georgian sculpture, selfhood in Mughal India, and Persian inscriptions.
With the support of Teo Ruiz (UCLA), who came on as the new chair of the Committee in March, and important contributions from Committee members Sierra Lomuto (Rowan University) and Jenny Tan (University of Pennsylvania Press), Committee, members Liz Hardman (Bronx Community College, CUNY) and Ana C. Núñez (Stanford University) oversaw the six-week summer program of workshops, panels, and presentations that commenced on July 1.  While most of the sessions were on Zoom, an in-person gathering at Yale University on August 17-19 brought participants together for a culminating series of presentations and sessions. The students were divided into three cohorts, based on their stage of graduate work, and each cohort focused on a research product: a conference paper, a grant proposal, or a dissertation prospectus. In several sessions over the six weeks, the two mentors guiding each workshop worked intensively with their cohort members. Courtney C. Barajas, a specialist in Old English and a DEI advocate, teamed up with Maggie Solberg, who teaches British medieval literature, to mentor the dissertation prospectus cohort; medieval historian and research development strategist Jennifer Speed and historian of late antique Italy Nicole Lopez-Jantzen mentored the grant writing cohort; and Daniel Davies, who works on late medieval literary and historical texts, joined activist professor of the global north Atlantic Nahir Otaño Gracia to mentor the conference paper cohort.
Additionally, to broaden the participants' career horizons, the program included three panels featuring medievalists working in varied settings: editing and publishing (Erik Beranek, Translator and Assistant Editor, Sociology and Paperbacks, Princeton University Press; Jonathan Farr, freelance academic editor), digital humanities (James B. Harr III, Assistant Professor of Literature and Languages, Christian Brothers University ), libraries and museums (Christopher Fletcher, assistant director, Center for Renaissance Studies, Newberry Library; Amey A. Hutchins, Manuscripts Cataloging Librarian, Schoenberg Institute for Manuscript Studies, University of Pennsylvania Libraries; Tory Schendel-Vyvoda, Curator, Evansville African American Museum; Art Collections Researcher, University of Southern Indiana; Visiting Faculty, Harlaxton College curator of art at the Evansville Museum of Arts, History, and Science); development (Sarah Celentano, Major and Planned Gifts Officer, Brooklyn College Foundation, and as of October 3, Senior Director of Individual Giving, Municipal Art Society of New York), instructional design (Christopher Beck, Senior Instructional Design Manager, Course Production, Purdue University) and education (Elizabeth Keohane-Burbridge, Assistant Professor, Department of Early Childhood through Secondary Education, University of West Georgia).
The culminating days at Yale allowed all the participants to give presentations on their work and to complete two additional intensive workshops on cover letters and CVs (led by Holly Flora, Associate Dean for Faculty Affairs at Tulane University, and MIT Associate Dean Kim Benard).
Adan Ramirez-Figueroa
Informal comments thus far indicate that the program's emphasis on mentoring over an extended period of time—rather than in ephemeral, single events—and small cohorts yielded significant gains. These design features also afforded opportunities for participants to build lateral relations of mentoring and a network of support in addition to valuable vertical ties with professionals. Participants as well as panelists also valued the honoraria the MAA provided. This unique investment in setting a course for change allowed mentees to devote concerted time to the program and conveyed the Academy's respect for the upcoming generation of scholars.
Not only the students, however, gained from the program! The organizers, mentors, and panelists remarked that the experience was not only "very worthwhile" but also meaningful and fulfilling. If you would like to get involved, look for the next MAA calls for mentors or reach out to any member of the Mentoring Program Committee and/or to coordinators Mary M. Alcaro and Maggie Heeschan of the Graduate Student Committee mentoring program.
With gratitude especially to organizers Afrodesia McCannon, Liz Hardman, and Ana C. Núñez, I close with congratulations and thanks to the fifteen wonderful scholars who participated:
Muntazir Ali (Department of Persion, University of Delhi)
Ashley Barros (Department of English, Texas A&M University)
Gabriela Chitwood (Department of the History of Art and Architecture, University of Oregon)
Lauren Cole (Department of History, Northwestern University)
Aparajita Das (Department of History, University of California, Berkeley)
Maroun El Houkayem (Graduate Program in Religion, Duke University)
Antony Henk (Master of Arts, English Philology, University of Göttingen)
Amy D. Juarez (English Department, University of California, Riverside)
Erin Danielle Kurian (Department of History, University of Waterloo)
Jane Noble Maschue (Department of History, Catholic University of America)
Brianna Skye Oliver (Department of English, University of Arkansas)
Kristin Raffa (Program in the History of Science, University of Oklahoma)
Adan Ramirez-Figueroa (Romance Languages and Literatures, Harvard University)
Kristine Sabashvili (Department of Art History, Tbilisi State Academy of Art)
Thelma Trujillo (Department of English, University of Iowa)
Maureen C. Miller (mcmiller@berkeley.edu), President of the Medieval Academy of America