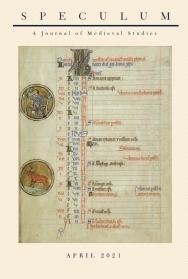 The latest issue of Speculum is now available on the University of Chicago Press Journals website.
To access your members-only journal subscription, log in to the MAA website using the username and password associated with your membership (contact us at info@themedievalacademy.org if you have forgotten either), and choose "Speculum Online" from the "Speculum" menu. As a reminder, your MAA membership provides exclusive online access to all issues of Speculum in full text, PDF, and e-Book editions—at no additional charge.
Speculum, Volume 96, Number 2 (April 2021)
Articles
Magical Charaktêres in the Carolingian World: A Ninth-Century Charm in MS Vat. lat. 5359 and Its Broader Cultural Context
Ildar Garipzanov
Inventing Apostolic Impression Relics in Medieval Rome
Erik Inglis
Tales of the Living Dead: Dealing with Doubt in Medieval English Law
Elizabeth Papp Kamali
Eve, Mary, and Martha: Paintings for the Humiliati Nuns at Viboldone
Julia I. Miller
Book Reviews
This issue of Speculum features more than 70 book reviews, including:
Christopher Abram, Evergreen Ash: Ecology and Catastrophe in Old Norse Myth and Literature
Reviewed by Michael Bintley
Jessica Barr, Intimate Reading: Textual Encounters in Medieval Women's Visions and Vitae
Reviewed by Barbara Newman
G. W. Bowersock, The Crucible of Islam
Reviewed by Suleyman Dost
Richard K. Emmerson, Apocalypse Illuminated: The Visual Exegesis of Revelation in Medieval Illustrated Manuscripts
Reviewed by Jacqueline E. Jung
Ian Forrest, Trustworthy Men: How Inequality and Faith Made the Medieval Church
Reviewed by Fiona Somerset
Moses Maimonides, "On the Regimen of Health": A New Parallel Arabic-English Translation, ed. and trans. Gerrit Bos, with critical editions of medieval Hebrew translations by Gerrit Bos and Latin translations by Michael R. McVaugh; and Moses Maimonides, "On the Elucidation of Some Symptoms and the Response to Them" (Formerly Known as "On the Causes of Symptoms"): A New Parallel Arabic-English Edition and Translation, with critical editions of the medieval Hebrew translations, ed. and trans. Gerrit Bos
Reviewed by Maud Kozodoy
John V. Tolan, Faces of Muhammad: Western Perceptions of the Prophet of Islam from the Middle Ages to Today
Reviewed by Nabil Matar
Jesús R. Velasco, Dead Voice: Law, Philosophy, and Fiction in the Iberian Middle Ages
Reviewed by Teofilo F. Ruiz
Eliza Zingesser, Stolen Song: How the Troubadours Became French
Reviewed by Wendy Pfeffer
MAA members also receive a 30% discount on all books and e-Books published by the University of Chicago Press, and a 20% discount on individual Chicago Manual of Style Online subscriptions. To access your discount code, log in to your MAA account, and click here. Please include this code while checking out from the University of Chicago Press website.
Sincerely,
The Medieval Academy of America