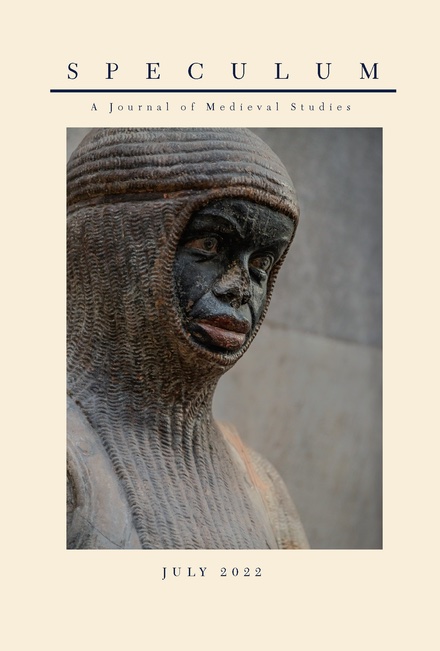 The latest issue of Speculum is now available on the University of Chicago Press Journals website.
To access your members-only journal subscription, log in to the MAA website using your username and password associated with your membership (contact us at info@themedievalacademy.org if you have forgotten either), and choose "Speculum Online" from the "Speculum" menu. As a reminder, your MAA membership provides exclusive online access to the full run of Speculum in full text, PDF, and e-Book editions – at no additional charge.
Speculum, Volume 97, Number 3 (July 2022) | Emerging Issues in Medieval Iberian Studies
Articles
Defining "Conversos" in Fifteenth-Century Castile: The Making of a Controversial Category
Yosi Yisraeli and Yanay Israeli
What Did Medieval Slavery Look Like? Color, Race, and Unfreedom in Later Medieval Iberia
Pamela A. Patton
From "Latin" to the Vernacular: Latin-Romance Hybridity, Scribal Competence, and Social Transformation in Medieval Castile
María Jesús Torrens-Álvarez and Donald N. Tuten
Representations of Hegemonic Masculinities in Medieval Leonese-Castilian and Almohad Chronicles
Linda G. Jones
Book Reviews
This issue of Speculum features more than 75 book reviews, including:
Jacopo Bisagni, ed., "Amrae Coluimb Chille": A Critical Edition
Reviewed by Christina Cleary
Caroline Walker Bynum, Dissimilar Similitudes: Devotional Objects in Late Medieval Europe
Reviewed by Wei-Cheng Lin
Rita Copeland, ed., The Oxford History of Classical Reception in English Literature. Vol. 1, 800–1558
Reviewed by Larry Scanlon
Shirin Fozi and Gerhard Lutz, eds., Christ on the Cross: The Boston Crucifix and the Rise of Monumental Wood Sculpture, 970–1200
Reviewed by Thomas Dale
Jeffrey F. Hamburger, Diagramming Devotion: Berthold of Nuremberg's Transformation of Hrabanus Maurus's Poems in Praise of the Cross
Reviewed by Benjamin Anderson
Samantha Kelly, ed., A Companion to Medieval Ethiopia and Eritrea
Reviewed by Habtamu Tegegne
Lars Kjær, The Medieval Gift and the Classical Tradition: Ideals and Performance of Generosity in Medieval England, 1100–1300
Reviewed by Hugh M. Thomas
Angeliki Lymberopoulou, ed., Hell in the Byzantine World: A History of Art and Religion in Venetian Crete and the Eastern Mediterranean
Reviewed by Vasileios Marinis
Outi Merisalo, Miika Kuha, and Susanna Niiranen, eds., Transmission of Knowledge in the Late Middle Ages and the Renaissance
Reviewed by Gian Mario Cao
Sara Ritchey, Acts of Care: Recovering Women in Late Medieval Health
Reviewed by Tory V. Pearman
Katherine Allen Smith, The Bible and Crusade Narrative in the Twelfth Century
Reviewed by Beth C. Spacey
MAA members also receive a 30% discount on all books and e-Books published by the University of Chicago Press, and a 20% discount on individual Chicago Manual of Style Online subscriptions. To access your discount code, log in to your MAA account, and click here. Please include this code while checking out from the University of Chicago Press website.
Sincerely,
The Medieval Academy of America