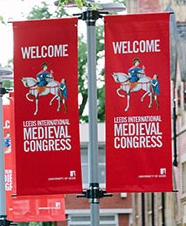 If you're going to be at the Leeds International Medieval Congress this year, please join us on Tuesday, 5 July, 19.00-20.00 for the Annual Medieval Academy of America Lecture: Carol Symes (Dept. of History, University of Illinois, Urbana-Champaign): "Médiévistes sans frontières – Shifting Medieval Boundaries at Multiple Scales"
Afterwards, join Prof. Symes and MAA governance and staff members for the Medieval Academy's open-bar wine reception.
The Medieval Academy's Graduate Student Committee roundtable, "Gatekeeping the Middle Ages: Accessing, Congrolling, and Disseminating the Medieval Past in the Modern World," will take place on Monday, 4 July, from 19.00-20:00.
We hope to see you there!