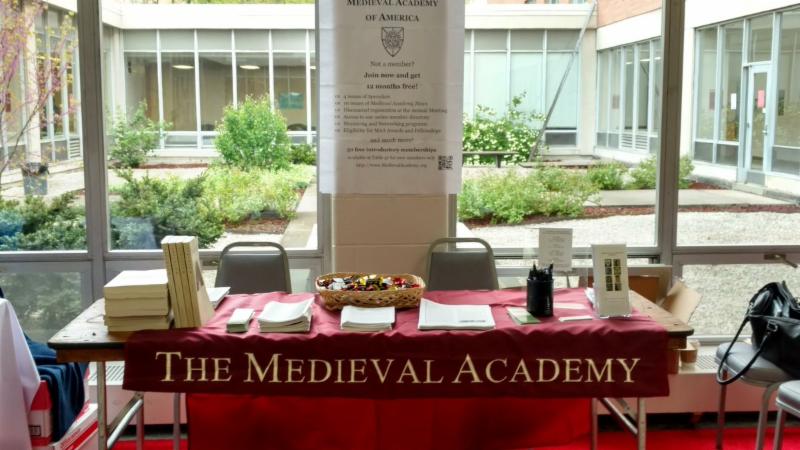 Like many of you, we've just returned from another splendid Congress in Kalamazoo. Sarah Spence and Lisa Fagin Davis very much enjoyed chatting with current and potential members at our table in the exhibit hall. We are particularly pleased to welcome the new members who benefited from our annual "Fifty Free" program, in which we give away fifty one-year introductory memberships at Kalamazoo.
The Friday morning plenary, sponsored by the Academy, was delivered to a large crowd by Leor Halevi (Vanderbilt Univ.), who spoke on "Artifacts of the Infidel: Medieval and Modern Interpretations of the Sacred Law of Islam." The lecture was live-Tweeted by Jonathan Hsy here: goo.gl/YKRJKF. The two related sessions were also well-attended, expanding on themes introduced in Prof. Halevi's lecture.
The panelists in the MAA Graduate Student Committee roundtable "To 'Gladly Teche': Becoming Great Teachers in Graduate School" spoke about their own and ongoing experiences as students learning not only medieval content but how to teach effectively. The GSC reception immediately afterwards was lively and convivial. If you couldn't join us this year, we hope you will come next year!
The Committee on Centers and Regional Associations (CARA) sponsored two panels. The first, "Teaching a Diverse and Inclusive Middle Ages," featured important discussions about inclusion and diversity not only in curricula but also in the classroom and in teaching strategies. The Twitter-feed is here: goo.gl/FQ5JzX. The second session, "Career Diversity for Medievalists: Insights from Outside the Academy," featured presentations by medievalists who leveraged their language, analytical, and other skills into career success and satisfaction outside academia. We hope that these important conversations will continue.
The thirty attendees of the annual CARA (Committee on Centers and Regional Associations) Luncheon participated in discussions of practical topics such as budgeting, fundraising, libraries, public advocacy, and improving medieval studies in K-12 curricula. Formal reports on these conversations will be posted to the Medieval Academy Blog in the coming weeks. If you want to participate in the networking and advisory opportunities afforded by CARA, please join us at the annual CARA Meeting (on the Sunday after the Annual Meeting) and at the CARA luncheon at the ICMS (on Friday of the Congress).