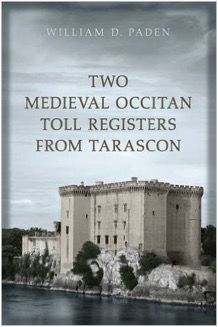 The Medieval Academy of America is proud to announce the publication of Medieval Academy Books, vol. 115: William D. Paden, Two medieval Occitan Toll Registers from Tarascon (Univ. of Toronto Press, 2016).
Two Medieval Toll Registers from Tarascon presents an edition, translation, and discussion of two vernacular toll registers from fourteenth and fifteenth-century Provence. These two registers are a valuable new source for the economic, linguistic, and transportation history of medieval France, offering a window onto the commercial life of Tarascon, a fortified town on the east bank of the Rhône between Avignon and Arles. In this volume, William D. Paden discusses the developing fiscal policy of the counts of Provence, for whom the tolls were collected, and the practice and vocabulary of medieval toll-keeping. An afterword considers the toll registers in relation to the poetry of troubadours, arguing that the realism of the registers and the idealism of troubadour poetry overlapped in the world of medieval Tarascon.
Since 1926, the Medieval Academy of America has published monographs in the Medieval Academy Books series. For Medieval Academy Books volumes 1-105 (and other series), see our publications page. Most books published by the Academy are available in at least one of the following formats: hardcopy first-edition (through the Medieval Academy's online bookstore); print-on-demand at Amazon.com; open-access PDF or HTML on the Academy website; or through the subscription-based ACLS Humanities e-Book Library. Vols. 106-115 are published and sold in partnership with the University of Toronto Press; those volumes are available on the UTP website.