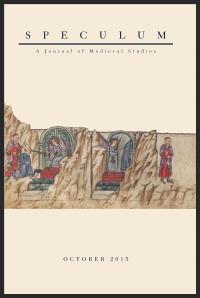 The October issue Speculum is on its way to your mailbox and, in addition to several dozen book reviews, includes the following articles:
Sebastian Sobecki, "Ecce patet tensus: The Trentham Manuscript, In Praise of Peace, and John Gower's Autograph Hand" (see also this piece on Medievalists.net);
Constant J. Mews and Tomas Zahora, "Remembering Last Things and Regulating Behavior in the Early Fourteenth Century: From the De consideratione novissimorum to the Speculum morale";
Elizabeth C. Parker, "The Politics of the Tunic in Antelami's Deposition in Parma";
John Bugbee, "Dante's Staircase and the History of the Will";
Heather Blurton, "The Language of the Liturgy in the Life and Miracles of William of Norwich."
Online access to Speculum is a perquisite of membership in the Medieval Academy. To access Speculum online, you must first sign in to your account on the Medieval Academy website, www.medievalacademy.org After signing in, follow the link on the "Speculum Online" page to access the journal through the Cambridge University Press site.
For more information about Speculum, click here.