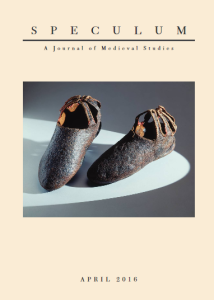 The latest issue of Speculum is now available on the new University of Chicago Press Journals website.
To access your members-only journal subscription, log in to the MAA website using your username and password associated with your membership (contact us at info@themedievalacademy.org if you have forgotten either), and choose "Speculum Online" from the "Speculum" menu. As a reminder, your MAA membership provides exclusive online access to the full run of Speculum in full text, PDF, and e-Book editions – at no additional charge.
Speculum, Volume 91, Issue 2 (April 2016)
Articles
Torture and Confession in the Templar Interrogations at Caen, 28-29 October 1307
Sean L. Field
The Earls of Leicester, Sygerius Lucanus, and the Death of Seneca: Some Neglected Evidence for the Cultural Agency of the Norman Aristocracy
Paul Antony Hayward
The Sabatati: The Significance of Early Waldensian Shoes, c. 1184 -c. 1300
Adam L. Hoose
Reflecting (on) the Other: Jewish-Christian Relations in Cligès and MS Michael 569(*)
Naomi Howell
The Politics of Grief in the Outbreak of Civil War in France, 1407-1413
Emily J. Hutchison 
Book Reviews
This issue of Speculum features more than 70 book reviews, including:
Anthony Kaldellis, The Byzantine Republic
Reviewed by Leonora Neville
Erik Kwakkel, ed., Manuscripts of the Latin Classics
Reviewed by Erika Kihlman
Alastair Minnis, The Cambridge Introduction to Chaucer
Reviewed by Peter Brown
Christian Raffensperger, Reimagining Europe: Kievan Rus' in the Medieval World
Reviewed by David Goldfrank
Claire Sponsler, The Queen's Dumbshows
Reviewed by Anthony Bale
Chris Wickham, Medieval Rome: Stability and Crisis of a City
Reviewed by Thomas F. X. Noble
 MAA members also receive a 30% discount on all books and e-Books published by the University of Chicago Press, and a 20% discount on individual Chicago Manual of Style Online subscriptions. To access your discount code, log in to your MAA account, and click here.  Please include this code while checking out from the University of Chicago Press website.