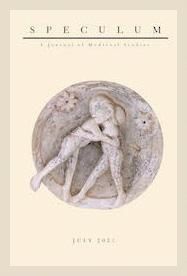 The latest issue of Speculum is now available on the University of Chicago Press Journals website.
To access your members-only journal subscription, use the username and password associated with your MAA membership to log in on the MAA website (contact us at info@themedievalacademy.org if you have forgotten your credentials). Then, choose "Speculum Online" from the "Speculum" menu. As a reminder, your MAA membership provides exclusive online access to all issues of Speculum in full text, PDF, and e-Book editions—at no additional charge.
Speculum 96, no. 3 (July 2021)
Articles
Macro/Microcosm at Vézelay: The Narthex Portal and Non-elite Participation in Elite Spirituality
Conrad Rudolph
"To Embrace a Sack of Excrement": Odo of Cluny and the History of an Image
Christopher A. Jones
Passing the Time: The Role of the Dice in Late Medieval Pardon Letters
Andrew Brown
Moustaches, Mantles, and Saffron Shirts: What Motivated Sumptuary Law in Medieval English Ireland?
Sparky Booker
Book Reviews
This issue of Speculum features more than 80 book reviews, including:
Alice-Mary Talbot, Varieties of Monastic Experience in Byzantium, 800–1453
Reviewed by Derek Krueger
D. L. d'Avray, Papal Jurisprudence c. 400: Sources of the Canon Law Tradition
Reviewed by Kenneth Pennington
Sarah McNamer, Meditations on the Life of Christ: The Short Italian Text
Reviewed by Shannon McHugh
Marina Rustow, The Lost Archive: Traces of a Caliphate in a Cairo Synagogue
Reviewed by Julia Bray
Thelma Fenster and Carolyn P. Collette, eds., The French of Medieval England: Essays in Honour of Jocelyn Wogan-Browne
Reviewed by Ardis Butterfield
Geoffrey Chaucer, The Canterbury Tales, Jill Mann, ed.; David Lawton, ed., The Norton Chaucer: "The Canterbury Tales," with Jennifer Arch and Kathryn Lynch
Reviewed by James Simpson
W. Mark Ormrod, Bart Lambert, and Jonathan Mackman, Immigrant England, 1300–1500
Reviewed by Milan Pajic
Eugenio Refini, The Vernacular Aristotle: Translation as Reception in Medieval and Renaissance Italy
Reviewed by Brenda Deen Schildgen
Celia Chazelle, The Codex Amiatinus and Its "Sister" Bibles: Scripture, Liturgy, and Art in the Milieu of the Venerable Bede
Reviewed by Carol Neuman de Vegvar
Alison I. Beach and Isabelle Cochelin, eds., The Cambridge History of Medieval Monasticism in the Latin West. Vol. 1, Origins to the Eleventh Century. Vol. 2, The High and Late Middle Ages
Reviewed by Walter Simons
Colmán Etchingham, Jón Viðar Sigurðsson, Máire Ní Mhaonaigh, and Elizabeth Ashman Rowe, Norse-Gaelic Contacts in a Viking World
Reviewed by Sarah Künzler
G. Geltner, Roads to Health: Infrastructure and Urban Wellbeing in Later Medieval Italy
Reviewed by Nükhet Varlık
MAA members also receive a 30% discount on all books and e-Books published by the University of Chicago Press, and a 20% discount on individual subscriptions to The Chicago Manual of Style Online. To access your discount code, log in to your MAA account, and click here. Please include this code while checking out from the University of Chicago Press website.
Sincerely,
The Medieval Academy of America