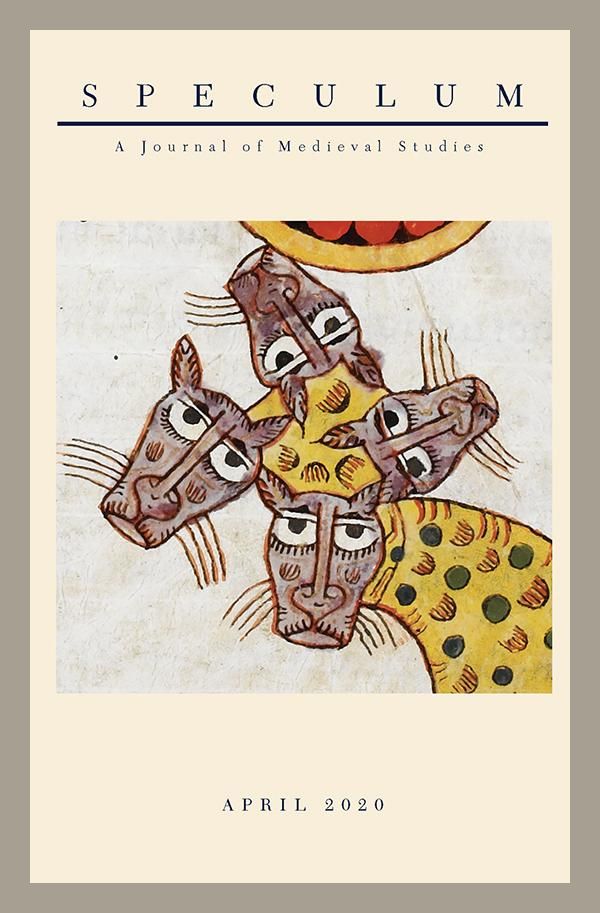 The latest issue of Speculum is now available on the University of Chicago Press Journals website.
To access your members-only journal subscription, log in to the MAA website using your username and password associated with your membership (contact us at info@themedievalacademy.org if you have forgotten either), and choose "Speculum Online" from the "Speculum" menu.  As a reminder, your MAA membership provides exclusive online access to the full run of Speculum in full text, PDF, and e-Book editions – at no additional charge.
Speculum, Volume 95, Number 2 (April 2020)
Articles
The Scribes of the Silos Apocalypse (London, British Library, Add. MS 11695) and the Scriptorium of Silos in the Late Eleventh Century
Ainoa Castro Correa
From Purification to Protection: Plague Response in Late Medieval Valencia
Abigail Agresta
Performative Images and Cosmic Sound in the Exultet Liturgy of Southern Italy
Bissera V. Pentcheva
The Ages of the World and the Ages of Man: Irish and European Learning in the Twelfth Century
Michael Clarke and Máire Ní Mhaonaigh
Book Reviews
This issue of Speculum features more than 80 book reviews, including:
Lola Badia, Joan Santanach, and Albert Soler, Ramon Llull as a Vernacular Writer: Communicating a New Kind of Knowledge; Raymond Lulle and Patrick Gifreu, Proverbes de Raymond; Josep E. Rubio, Raymond Lulle: le langage et la raison; Une introduction à la genèse de l'"Ars"
Reviewed by Mark D. Johnston
François-Xavier Fauvelle, The Golden Rhinoceros: Histories of the African Middle Ages
Reviewed by Esra Akın-Kıvanç
Geraldine Heng, The Invention of Race in the European Middle Ages
Reviewed by Joseph Ziegler
Bryan C. Keene and Alexandra Kaczenski, Sacred Landscapes: Nature in Renaissance Manuscripts; Nicole R. Myers, Michel Pastoureau, Elisabeth Taburet-Delahaye, and Michel Zink, eds., Art and Nature in the Middle Ages
Reviewed by Jacqueline Jung
Robin Chapman Stacey, Law and the Imagination in Medieval Wales
Reviewed by Thomas Charles-Edwards
Jan M. Ziolkowski, The Juggler of Notre Dame and the Medievalizing of Modernity
Reviewed by James H. S. McGregor
MAA members also receive a 30% discount on all books and e-Books published by the University of Chicago Press, and a 20% discount on individual Chicago Manual of Style Online subscriptions. To access your discount code, log in to your MAA account, and click here.  Please include this code while checking out from the University of Chicago Press website.
Sincerely,
The Medieval Academy of America