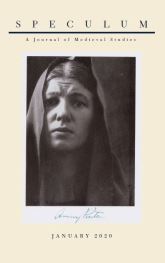 The latest issue of Speculum is now available on the University of Chicago Press Journals website.
To access your members-only journal subscription, log in to the MAA website using your username and password associated with your membership (contact us at info@themedievalacademy.org  if you have forgotten either), and choose "Speculum Online" from the "Speculum" menu.  As a reminder, your MAA membership provides exclusive online access to the full run of Speculum in full text, PDF, and e-Book editions – at no additional charge.
Speculum, Volume 95, Number 1 (January 2020)
Articles
Medieval Studies in Troubled Times: The 1930s
David Wallace
Agronomy and Affect in Duke Humfrey's On Husbondrie
Lisa H. Cooper
The People of God and the Law: Biblical Models in Carolingian Legislation
Gerda Heydemann
Revelatio on the Origins of Mont Saint-Michel (Fifth-Ninth Centuries)
George N. Gandy
"I Need to Be Individually Loved, Lord, Let Me Recognize Your Gift!": The Gifts of Love in the Soliloquy of Hugh of Saint-Victor (d. 1141)
Ritva Palmén
Book Reviews
This issue of Speculum features more than 70 book reviews, including:
Marcus Bull, Eyewitness and Crusade Narrative: Perception and Narration in Accounts of the Second, Third, and Fourth Crusades
Reviewed by Andrew Buck
Seeta Chaganti, Strange Footing: Poetic Form and Dance in the Late Middle Ages
Reviewed by John C. Hirsh
Kari Ellen Gade, ed., Poetry from Treatises on Poetics; Margaret Clunies Ross, ed., Poetry in "Fornaldarsögur"
Reviewed by Martin Chase
Elina Gertsman and Barbara H. Rosenwein, The Middle Ages in 50 Objects
Reviewed by Karl Whittington
Michael Lapidge, The Roman Martyrs: Introduction, Translations, and Commentary
Reviewed by Raymond Van Dam
Robert Mills, Derek Jarman's Medieval Modern
Reviewed by David Clark
Andrew Scheil, Babylon under Western Eyes: A Study of Allusion and Myth
Reviewed by Mary Kate Hurley
MAA members also receive a 30% discount on all books and e-Books published by the University of Chicago Press, and a 20% discount on individual  Chicago Manual of Style Online subscriptions. To access your discount code, log in to your MAA account, and  click here.  Please include this code while checking out from the  University of Chicago Press website.
Sincerely,
The Medieval Academy of America