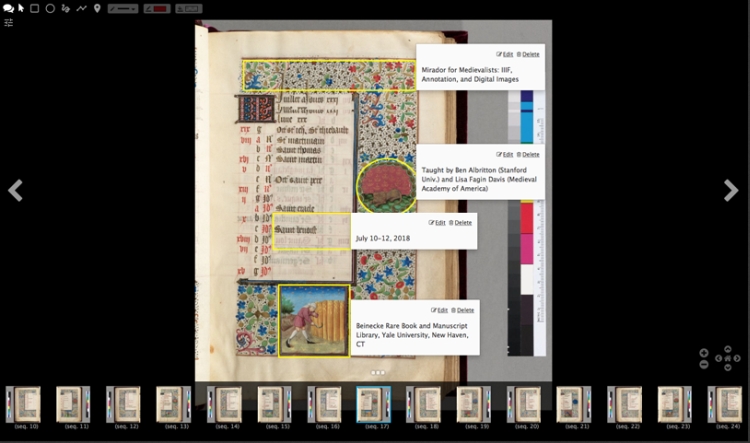 We are now accepting applications for this digital humanities workshop co-sponsored by The Medieval Academy of America and the Beinecke Rare Book and Manuscript Library. Co-taught by Benjamin Albritton (Computing Info Systems Analyst, Stanford University Libraries) and Lisa Fagin Davis (Executive Director, Medieval Academy of America), the workshop will take place at the Beinecke Rare Book and Manuscript Library at Yale University from 10-12 July 2018.
So much of the work currently being undertaken by medievalists is dependent on primary resources that may not be close at hand, and digital imagery alone can only take us so far. We have limited storage space for the enormous images we want to work with, and so we need to work in an online environment. In keeping with digital best-practices, we want to avoid siloing of files in sealed-off digital repositories. We need to make these images, and our work, discoverable, and so we need consistent metadata and annotation tools. We want to work with open data, including our own, data that can be shared, downloaded, manipulated, visualized, and mined. As scholars, we have limited funding and technical support, and so we need tools that are free, open-access, and easily implemented. The combination of the International Image Interoperability Framework (IIIF) and a shared-canvas viewer such as Mirador opens new avenues for researchers and students to discover, access, compare, annotate, and share images of and data pertaining to artifacts and manuscripts. Cloud-based, flexible, open-access, and easily implementable, IIIF and Mirador are a particularly powerful combination.
Participants in this three-day intensive workshop will have the opportunity to learn about the International Image Interoperability Framework and Mirador, and learn how this technology can facilitate new methodologies in manuscript and art history research. Working with their own images, participants will 1) upload their images into a IIIF server (if they aren't already served by a IIIF-compliant platform); 2) work with the instructors to develop annotations and tags in keeping with their research project; 3) save the annotation layers for future use.
Click here for more information and to apply. Applications must be received by June 1.