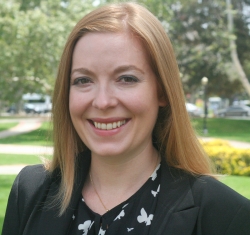 Sara V. Torres (2014 Ph.D. UCLA) has been awarded the 2016-17 editorial postdoctoral fellowship at Speculum. Sara was selected from a pool of more than forty applicants. She will join the Speculum team in July and work as a full-time editorial assistant for one year. During this time she will oversee the book review process and contribute to the editing and production of the entire journal.
Dr. Torres is currently a Lecturer in English at the University of California, Los Angeles, with interests in global and comparative medieval studies and history of the book. Her research focuses on the cultural exchange between England and Iberia during the fourteenth, fifteenth, and sixteenth centuries and traces the movement of dynastic narratives over political borders.
Sara brings to the postdoctoral fellowship strong editorial experience, having served as assistant editor of the University of California Press quarterly Boom; freelance copyeditor; editorial research assistant for Prof. Barbara Fuchs; cataloguer of a collection of 17th- and 18th-century British religious pamphlets, including late medieval and colonial American legal documents; and member of the editorial board of Comitatus: A Journal of Medieval and Renaissance Studies.
In addition to receiving a Medieval Academy Shallek Award in 2010, Sara has been the recipient of numerous grants and fellowships, including a travel grant from the Institute for the Editing of Historical Documents and a scholarship from the Gladys Krieble Delmas Foundation.
We are thrilled to welcome her to the staff and look forward to working with her.