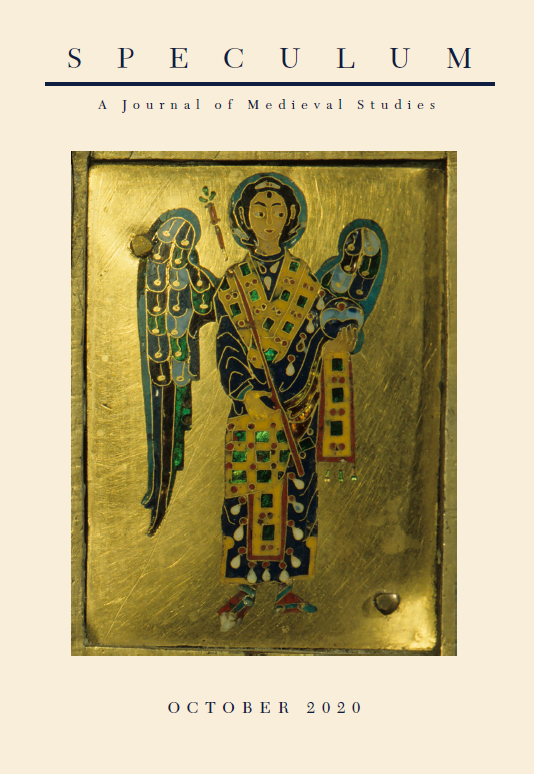 The latest issue of Speculum is now available on the University of Chicago Press Journals website.
To access your members-only journal subscription, log in to the MAA website using your username and password associated with your membership (contact us at info@themedievalacademy.org if you have forgotten either), and choose "Speculum Online" from the "Speculum" menu. As a reminder, your MAA membership provides exclusive online access to the full run of Speculum in full text, PDF, and e-Book editions – at no additional charge.
Speculum, Volume 95, Number 4 (October 2020)
Articles
The Regulation of "Sodomy" in the Latin East and West
Ruth Mazo Karras
Chosen Peoples and New Israels in the Early Medieval West
Conor O'Brien
Made for a Templar, Fit for an Abbess: The Psalter, Cambridge, St. John's College, MS C.18 (68)
Katie Ann-Marie Bugyis
Origen's Story: Heresy, Book Production, and Monastic Reform at Saint-Laurent de Liège
Jay Diehl
Nivelon de Quierzy, the Cathedral of Soissons, and the Relics of 1205: Liturgy and Devotion in the Aftermath of the Fourth Crusade
M. Cecilia Gaposchkin
Book Reviews
This issue of Speculum features more than 70 book reviews, including:
Kathleen Bickford Berzock, ed., Caravans of Gold, Fragments in Time: Art, Culture, and Exchange Across Medieval Saharan Africa
Reviewed by Shirin Fozi
Philip Butterworth and Katie Normington, eds., Medieval Theatre Performance: Actors, Dancers, Automata and Their Audiences
Reviewed by Seeta Chaganti
Gaël Chenard, L'Administration d'Alphonse de Poitiers (1241-1271)
Reviewed by William Chester Jordan
Deborah Deliyannis, Hendrik Dey, and Paolo Squatriti, Fifty Early Medieval Things: Materials of Culture in Late Antiquity and the Early Middle Ages
Reviewed by Beatrice Kitzinger
Sean L. Field, Courting Sanctity: Holy Women and the Capetians
Reviewed by Barbara Newman
Christopher M. Gerrard and Alejandra Gutiérrez, eds., The Oxford Handbook of Later Medieval Archaeology in Britain
Reviewed by Roberta Gilchrist
Bryan C. Keene, ed., Toward a Global Middle Ages: Encountering the World through Illuminated Manuscripts
Reviewed by Sarah M. Guérin
Ronald G. Musto, Writing Southern Italy Before the Renaissance: Trecento Historians of the Mezzogiorno
Reviewed by Frances Andrews
Karen A. Winstead, The Oxford History of Life-Writing, vol. 1, The Middle Ages
Reviewed by John V. Fleming
MAA members also receive a 30% discount on all books and e-Books published by the University of Chicago Press, and a 20% discount on individual Chicago Manual of Style Online subscriptions. To access your discount code, log in to your MAA account, and click here. Please include this code while checking out from the University of Chicago Press website.
Sincerely,
The Medieval Academy of America